Roundup 9-15-2017
September 15, 2017
We hope everyone is fine after last weekend. While we wanted to do a full Roundup this week, Irma caused some serious issues in our utilities and ate up a lot of time.  In any event, we are going to post what we have.  
Contents
Downtown/Channel District – Water Street Stuff
Economic Development – Can We Get Amazon?
South Tampa – Condos Move West
___________________________________________________
In keeping with tradition, we start by celebrating new international service. Last week, Icelandair began its service to Tampa (yes, they got overshadowed by other news, but whatever). See a video from the Business Journal here.
Not much else to say about that other than "Cool." Keep the international (and other) flights coming.

Downtown/Channel District – Water Street Stuff
The first real information for a specific building of the Water Street development was revealed this week.  No surprise, it was the hotel across the street from the Marriott Waterside which was first mooted long ago.
The massive convention hotel in Water Street Tampa will feature a rooftop lounge on the 26th story, a ground-floor restaurant and a restaurant with indoor/outdoor seating on the sixth floor.

The 500-room hotel, named 10 Water Street, will be built on Old Water Street, across from the Marriott Tampa Waterside Hotel & Marina. Strategic Property Partners, the developer of Water Street Tampa, revealed design plans for the property on Wednesday.
That is a nice size hotel, though it is far from "massive" (from all indications the hyperbole is media, here the Business Journal, generated, not from the developer, which is odd because a sister publication gave us this list of much larger hotels – not to mention the one across the street – an hour away  and those are not even that high on this list).  In any event,
The new hotel will be connected to the existing Marriott, SPP said, and include 126,000 square feet of meeting and event space. The hotel will feature a 30,000-square-foot-ballroom, which SPP says is the largest in the Tampa Bay region.
And all that is fine.  It will probably be a very nice hotel.  Here is the rendering released:
Moreover, elevations were filed with the city. (Thanks to URBN Tampa Bay and Florida Future of Skycrapercity)
Before we get into the building itself, we will reiterate, we think it will probably be a very nice hotel.  We like the rooftop bar.  The restaurant space is fine.  The atrium seems nice. And, while basically a glass box, the building seems a nice glass box.  It is a bit nondescript but is nice enough.
We do have some potential issues, though.  First, aside from presumably the restaurants, there seems to be almost no street activity or retail, and there is a surface parking lot on the east end of the building (though we presume that will be developed soon enough).    And, while there are some elements that appear to be awnings, they seem to be broken up by vertical design elements so you can't walk the relatively long distance along the street under cover.  That may not seem like a big deal for one building, but we are concerned that the designers realize that it rains and the sun is very hot here in Florida.  If they want people walking a lot, they need to provide real cover – not the kind of cover where you get soaked anyway.  Good designers design for the environment.
And that brings us to the skywalk. We get skywalks, and we get why the Lightning owner wants to connect his two hotels with skywalks.  We also get that skywalks inhibit street activity and tend towards designs the focus on keeping activity in the building. (See Bank of America building and how the retail is on the third floor where the skywalk connects with the garage.) We will be interested to see how they deal with that conundrum across the whole project.
Basically, while we are a little disappointed that it is not a truly striking design in the first announcement, the building seems fine, and we understand it.  (We hope they are working up to really excellent designs.) The biggest problem is that it contains many of the designs elements that have, when repeated over and over without mitigation, become problems for our urban areas.  (Some of the same problems that are supposed to be solved by Water Street)  However, it is nothing that cannot be addressed, and we hope that the Lightning owner's team has the awareness to mitigate those issues and avoids those problems.
There was also news about the wellness aspect of the project.
A set of building standards for communities that cater to health and wellness — shaped by Strategic Property Partners' $3 billion mixed-use district in downtown Tampa — will launch its pilot phase next week.

The International WELL Building Institute will debut the WELL Community Standard on Sept. 5.
You can read more here.
We are not overly interested with the whole wellness thing.  It's nice, and people who want to indulge are free to do so.
For those who are interested, USF has set up a construction webcam for the med school project with views like this still:
We are not sure if the webcam is fully working after Irma, but even if it isn't, we assume it will get fixed. You can find the whole webpage here.   We are all for construction webcams and hope the Water Street project has many.

Economic Development – Can We Get Amazon?
As those who follow such things will know, Amazon said it is looking to build a second HQ (In addition to the very big one it is building in downtown Seattle.)
We are not really clear why Amazon wants to do this, but  whatever.  What are they looking for?  As noted by a Marketwatch article:
And it produced this list of candidates:
And with that, you get our finalist list for Amazon's second headquarters: Atlanta, Austin, Baltimore, Boston, Bridgeport, Denver, New York, Provo, Raleigh, Tampa and Washington. 
Of course, that is complete speculation.  Other speculation drops Tampa very early, like here or completely ignores it, like here.
Gotta think big to get big. The good news is Tampa Hillsborough Economic Development Corp. CEO Craig Richard says Tampa Bay meets the key criteria of Amazon's hunt for a second headquarters. Access to a good airport. A metro area topping a million people. Nearby universities of quality. And tech talent.

"On a scale of 1 to 10, this is a 13 for us," says Richard in his enthusiastic style. "We have read Amazon's RFP (request for proposal) and it sounds like it was written for us."
He's a salesman selling.  That is what he is supposed to do.
But in this extraordinary case, is a "13" effort enough? The desire of metros across this country (Canada, too) to seal this deal is palpable. Conversations similar to mine with Richard are taking place in dozens of major metros. What aspiring U.S. metro would not want to land Amazon HQ2 for one of the fastest growing, innovative companies on the planet that is run by one of the world's richest billionaires?

Richard acknowledges the competition will be fierce; the odds long. "Many other metros will think this RFP was written for them," he acknowledged. And that no doubt includes other metro areas in Florida.
Pretty much, though it really isn't.  But we are all for trying.  We have everything to gain and nothing to lose.
Setting aside that there are not plenty of compelling places that would appeal to Amazon, the fact that Amazon can afford to be extremely picky is a the real problem.  It is at times like these that the decades of complacency, laziness, and selfishness in planning and transportation and all the settling become a real issue. (Not to mention the complacency in airline routes for many years, complacency in economic development focusing on back office jobs, and other various complacency) Amazon can go anywhere and probably get paid to do so.  They can go to fully developed urban areas with all the amenities they want and need – all the things we still talk about wanting. While we think their second HQ will probably be in the eastern half of the country, why specifically should they come here compared to all sorts of other places that are years ahead of us in such things?
It's not that we don't want this. We would love to have Amazon here, and they could come here. We are all for trying to get them, but the challenges are very large.  So, as usual, it all goes back to the same question:
If someone can go anywhere, and with other places that already provide amenities that they want, why should they come here?
This is when the perennial failure to address that question head for on really matters.
As most readers know, there is a regional transit study going on that is mostly just a review and discussion of the results of old studies.  As part of this transit study there is some public input which, so far, has been quite limited.  That input has taken the form of some recent public meetings (internet anyone?).  First the Hillsborough meeting:
More than 70 residents and business owners attending a public forum on rapid transit appeared to agree at least on one thing Thursday: They like light rail and dedicated bus lanes to move people through congested Hillsborough County.
70 is not very many for a county with 1.3 million people. Once again, internet anyone?
We are not sure what CSX tracks they propose buying, but 9 miles is not much (probably USF to downtown and not much more).  And the divergence in costs is quite substantial and needs much more explanation.
Likewise, $5 billion to connect South Tampa to downtown seems a little out of whack, even for rail, especially if it runs on the CSX tracks.  That does not sound accurate, but we'll set that aside for a moment.  (The other question is whether a South Tampa to downtown route – as opposed to the airport to downtown – is really where anything should start. We would say it isn't.)
We doubt the "rubber tire" system is the Montréal metro. It sounds pretty much like buses, though it could be something like the airport people mover.  Frankly, the article and the website for the project do not provide any clarity.
Although opinions were scattered, the highest number of votes were for light rail systems throughout Hillsborough County. This contrasted sharply with another forum held earlier in the week in Pasco County, where many of the 25 attendees opted for rubber tire solutions.
25? (At least turnout levels a relatively consistent) You can read a little more on it in this Times article. But not much.
We are not sure exactly what this study is really doing.  Having three meetings for the entire bay area is not really getting public input.  There is also the factor of study/meeting fatigue. How many meetings on the same subject can we have over the course of decades without anything getting done?
Nevertheless, the study is what we have.  We just wish that it showed more interest in really studying what the current situation in the Tampa Bay area is.  And, once again, if you want public input, you may want to use the internet.
There was news on the Selmon/Gandy Connector.
Evidence of the $230 million Selmon Extension that will give commuters a swift ride from the Lee Roy Selmon Expressway to the Gandy Bridge will be visible Thursday as crews begin preliminary work on the overpass.

Workers will be along the shoulder and in the median of Gandy Boulevard west of Bridge Street from 7 a.m. until 6 p.m. for "geotechnical investigation" and boring to prepare for construction, according to a release.
It is not really construction yet (nor is it just an overpass), but that was quick.
There was also news about the Selmon Greenway project.  Right now there is a trail of sorts under the Selmon in downtown complete with some signage, but it is not really a very nice place (though it is often shaded). See here and here.  But,
The Tampa Hillsborough Expressway Authority is moving forward with plans to improve a greenway under the Lee Roy Selmon Expressway through downtown. The 1.7-mile stretch is undergoing a $2.5 million facelift aimed at increasing safety and adding "pocket parks" including outdoor art and shade structures.

THEA released conceptual renderings of the pocket park proposal this week. The renderings show several statues and outdoor art, but those concepts are likely to change throughout the planning process and are instead meant to give an idea of what space might look like with such additions.
Mind you, it is only conceptual and subject to change, but here are some of the renderings and plans:
From the Business Journal – click on picture for article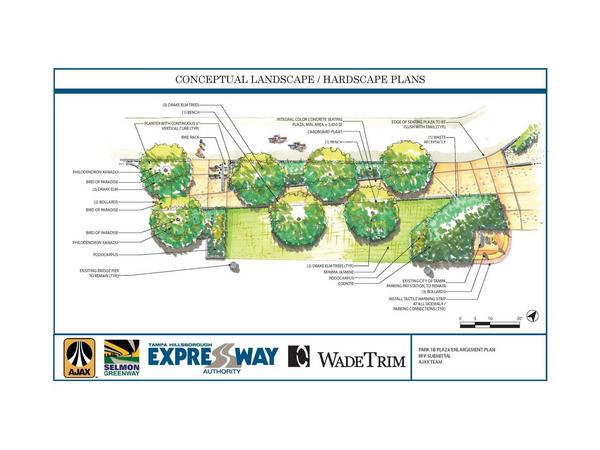 From the Business Journal – click on picture for article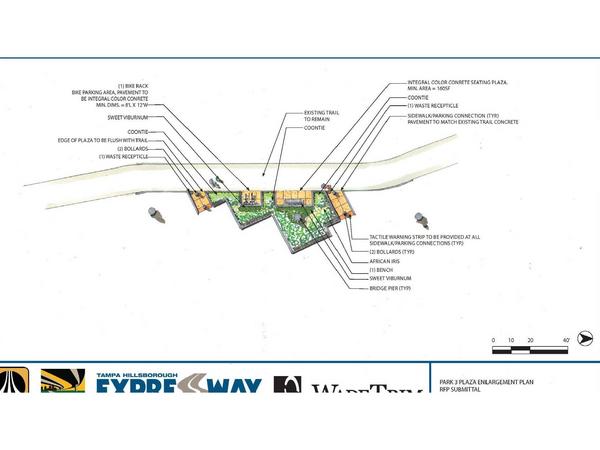 From the Business Journal – click on picture for article
We'll give them a definitive "not bad," especially when compared to what is there now.  Unfortunately, as we said, it is all subject to change so we will have to wait to see what really happens.
There was an article in the Business Journal about PSTA that began like this:
The Pinellas Suncoast Transit Authority is setting its sights on regional connectivity heading into the 2018 political cycle. The agency is focusing less on lobbying the Florida Legislature for funding and more on getting in on Florida Department of Transportation funding to create a dedicated transit corridor connecting Clearwater Beach to Tampa International Airport along State Road 60.
And that sounded promising enough, though we wondered how they would deal with a dedicated lane on the Courtney Campbell Causeway.  But then:
As part of the overall effort to connect one of the region's biggest tourism centers to the airport that funnels travelers into the area, PSTA also has its eye on a dedicated busway over the Clearwater Causeway that connects downtown Clearwater to Clearwater Beach. The existing bridge is often plagued by congestion.

The express lane over the bridge would cost between $12 million and $15 million, according to PSTA CEO Brad Miller who referenced a previous study of the corridor. It wouldn't require any new bridge construction. The agency would restructure the existing median and repaint lanes rather than expanding the bridge's overall footprint, which saves money.
And that is fine, too, but it is not a dedicated lane to the airport (or anywhere really near the airport).
Miller said the agency would likely partner with the private sector to run an airport connection.

"The private provider could lease smaller vehicles and then as the ridership grows the vehicles could change," Miller said.

That's the kind of flexibility difficult for public agencies that have to often rely on existing fleets.
That's ok, too, but it is still not a dedicated lane to the airport.
It's not that we are opposed to the Memorial Causeway concept in the article, and getting to the beach faster is good.  But the proposal is not what the article (and maybe PSTA, though that is not as clear) held it out to be.  Nevertheless, it would be really nice if there were a truly improved connection to the airport.

South Tampa – Condos Move West
As some may know, the defunct New Port Tampa Bay project had a number of condo projects (and even had some cranes up at one point, see here) on the west side of Interbay Peninsula, where density is lacking.  The new Westshore Marina District also has some condo proposals and now we have a better idea what they may be like, per URBN Tampa Bay:
New renderings, site plans and elevations for the tower portion of Westshore Marina District. This phase of the project is three 16 story towers with a total of 350 units and what appears to be some retail space. The towers top out at 201 feet tall.
While we are not really into the Miami design style, they look fine to us.  And they do appear to attempt to have some street interaction, which is good (though we are not sure it will actually happen like that).  We also like the drawing showing relative elevation of the building, although 10' is still pretty low.
Overall, we are fine with the idea.  We like getting Tampa to be denser and more city-like. (And there are more apartments going in this project, though we are not sure if they will be decent designs or the typical quick/cheap-build-and-sell projects we get in Tampa )  There are other areas that can be dense and walkable than downtown, and we are glad that development seems to be moving in that direction with this development (assuming no other crash happens).
The one thing is that there still seem to be absolutely no plans to deal with increased traffic from large developments south of Gandy. We cannot understand why there is such an apparent oversight, but it sure looks like there is.  And, sadly, while it does not make sense, it is not surprising.
Last week, we got a good lesson in how Tampa has worked over the years.
Yea, it looks questionable at best, but:
At least he's honest.  It's not like they couldn't have worked with Four Green Fields to make it a little more palatable.  Now, they have no leverage.  (And remember we like Four Green Fields and we don't mind the look of the building on Platt at all.)
The City is presently making no money from the building so any money they make is a bonus.  Why choose a design they admit they do not like?  Because, it seems, they don't really care.  That is the very definition of settling.
We know that this is a small project that will not make much difference (and will probably get some bemused comments in travel writing), but when you take that attitude over a number of years and over the whole area, it shows.
We ran across an interesting list this week: SmartAsset's States with the Worst Drivers – 2017 Edition. This is their methodology, which is a little questionable:
In order to find the states with the worst drivers, SmartAsset looked at factors like the percentage of drivers who have auto insurance, the DUI rate, the number of people killed per 100 million vehicle miles and how often people search the term "parking tickets" on Google. Check out our data and methodology below to see where we got our data and how we put it together.
Setting aside some of the questions, this is their Top Ten, starting with the worst:
Florida, Mississippi, Louisiana, Tennessee, Oklahoma, Texas, Nevada, California, Alabama, and Georgia.
Even with the odd methodology, we can't really say we are surprised.