Roundup 7-27-2018
July 26, 2018
Contents
Transportation – All Over the Place
Downtown/Channel District – USF Update
Downtown – Riverwalk Place Money
Built Environment/Downtown/Channel District – All That Storage
Downtown/Channel District – Back to Sparkman
Downtown/Channel District – Intriguing
Downtown – Reality Check, Cont
_______________________________________________

Transportation – All Over the Place
The deadline for All for Transportation petition signatures for the referendum is here.
A citizen's group trying to put a transportation initiative before voters says it has amassed almost 59,000 signatures as it begins a final push to meet a Friday deadline to qualify.

That exceeds the threshold of roughly 49,000 that All for Transportation must meet to put its one-penny sales tax initiative on the Nov. 6 General Election ballot. Still, the group plans to use every remaining day to gather more since about 30 percent of signatures already processed by the Hillsborough County Supervisor of Elections office have been ruled invalid.
Assuming all those signatures are valid, that would be enough, but you never know if they will all be valid.  (Once again, you can find the petitions here. There is also a list of places to drop them off, but we do not know at what time they will stop accepting them today.)
There was also some news about financial supporters of the referendum:
We knew about the two individuals donors.   Coastal Construction is connected to Water Street.  The Partnership is an interesting entrant in the process.
From the reports, it seems like there is a good chance the referendum will be on the ballot.  If so, it will be an interesting campaign.
Last week, we discussed an interview with a speaker at the Tampa Bay Transit Forum (See "Transportation – Potpourri— On Transit Oriented Development" ) and how she (intentionally or not) supported argument against the Regional Transit Study "BRT" plan.  On Friday, the Forum actually occurred. Given that the sponsors included the "BRT" plan engineers and organizations which have been out front advocating for the "BRT" plan (See here and here), it would not be surprising to hear that the speakers at the event supported that plan.
The overriding message at the Tampa Bay Transit Forum on Friday was that it's finally time for action on mass transportation.

Politicians, activists and transportation officials came together to discuss the future of mass transit in the region at Tampa International Airport. Several key Republican and Democratic politicians are linning up behind the plan for a 41 mile bus rapid transit route from Wesley Chapel to St. Petersburg. The stretch from St. Petersburg to the University of South Florida Tampa will use a dedicated lane, and the entire route would have more frequent and updated busses.
(Whether there will be a truly dedicated lane, as opposed to a shoulder or express lane, is still not clear.) And:
Support for a 41-mile regional bus rapid transit route is gaining support, according to conversations during the Tampa Bay Transit Forum on Friday at Tampa International Airport.

Several elected officials and transit and transportation professionals praised the plan as the first piece in robust transit that will attract new jobs and emerging young talent.
There may be growing support for transit generally, but we see no evidence of any groundswell of support for the "BRT" plan or that said plan is robust.  And while this is true:
Young professionals are increasingly looking for transportation options when deciding where to begin or continue their careers.

"They are choosing where they want to live before they choose where they want to work," said Vology CEO Barry Shevlin. "[Lacking transit] limits the pool of potential employees. I think most of the [business] leaders I'm talking to are not connecting those dots."
We doubt that the "BRT" plan really will do anything in that regard because it is best use is as an express bus from Wesley Chapel and does nothing for the urban environment or urban transportation.
In any event, among supportive speakers was heard this:
Dedicated lanes are important for real BRT.  However, we find the argument that this is a good plan essentially because it will be temporary a bit odd, especially when trying to promote the transit oriented development (TOD), since TOD requires certainty and permanence.
But anyway, as noted in an opinion piece in the Times by a Pasco Commissioner this week:
In other words, once again, it is not even clear that there will be dedicated lanes in the "BRT" plan. And that does not even get into the questionable bus on shoulder operation being called "dedicated lanes." (Tangentially, but interestingly, according to state numbers, since 2010, Hillsborough and Pinellas's population grew faster in real numbers than Pasco.  Notably Polk, Manatee did, too.  Additionally, according to the US census estimates, since 2010 Hillsborough has grown by 14.6% while Pasco has grown by 13.1%.  Manatee grew at 19.4% and Polk at 14%.)
But anyway:
Setting aside the leadership argument, yes, if you had a network built in a rational, coordinated way that maximized opportunities for TOD and had full funding, you could have a reasonable system.  As we have said over and over, the "BRT" plan does not do that.  There has been no commitment to even fund the "BRT" plan, let alone the total realignment of HART's system to feed it around the county, real BRT on arterial roads, and other follow-up lines.  In fact, none of that is even fully planned – most is not planned yet at all.
And, of course, as noted by the speaker who gave the interview last week about TOD:
Utter: "(Interstates) are not great places to be. They're not great places to live or hangout. They're not on the street grid.They have smells, noises..It's not my 1st choice, but it can work if you create a new place on the edge..Given my druthers, I'd always pick a city street"
So would we, and obviously, the interstate is hardly "gold standard." (If you read TBARTA's TOD guidelines pdf, you'll notice there is no discussion about interstates except for express buses.  It all focuses on reasonable TOD in proper locations, as it should.)
And that is not surprising because, as you may remember TOD was really an afterthought in the Regional Transit Study evaluation process anyway.  But why would you ever put it in the interstate? From the speaker:
Utter on pros/cons of putting transit along the interstate (as the proposed tri-county BRT plan would do): "It's cheaper, it's easier, it's a lot less brain damage than acquiring property to put it somewhere else, so transit agencies do it everywhere. Ideally it wouldn't be."
Once again, the main argument for the "BRT" plan remains: it is cheap.  Not because it is good.  Not because it is the most important need.  Just because it is cheap (and, apparently, easily removable).  That is not how to plan successful infrastructure.
It is not that we disagree that now is the time for transit (we think it is past time).  But, we want to focus on building real transit how and where it belongs, where it is most needed, and where it can do the most good.  An express bus on the interstate is fine for what it is, but that is all it is.
The Times had a good editorial on the Cross Bay Ferry:
Exactly.  It is a fun-cruise attraction, which is fine, but it is not transit.
In any event,
St. Petersburg City Council is tasked with approving an agreement with the ferry contractor and two resolutions that allow the city to collect funding from other governments and the Florida Department of Transportation. They're scheduled to vote Aug. 2.
We assume this will all pass.
It is still a mess.  We can't wait those autonomous car updates.

Downtown/Channel District – USF Update
As the USF Med School looks to be about half-way (at least vertically), there was some news:
The medical school, originally proposed at 11 stories, will now be 13 stories, at an additional cost of $12 million, Dr. Charles Lockwood, senior vice president for USF Health and dean of the Morsani College of Medicine, told the Tampa Bay Business Journal.

The two new stories will be shell space to accommodate future growth, Lockwood said.
We figured they would build the shell and do the internal build out later.  Because they were always going use the expansion, it makes a lot more sense than waiting while the cost and potential disruptions increase.  Of course, money is always an issue:
We assume they will get it.  And we are fine with aspiring to compete with Ivy League med schools.  Nothing wrong with that, though singling out Yale is kind of odd (we'll just assume that is the reporter not the dean.)
There was one other thing that caught our attention.
It will be within walking distance to Tampa General Hospital, one of the very few hospitals in the state to offer heart transplants.

"We are far from any teaching hospital so that's not good.  This will solve that problem, you can bike there or take the water taxi from Tampa General Hospital." Lockwood said.
So, no, it is not really walking distance to TGH.  Biking would be dangerous (especially on the bridge).  However, interestingly, the water taxi idea does hold some promise.  One could walk down to the channel, take a water taxi, and be dropped off at TGH.  While it is affordable (for now), it is not very frequent. But it is interesting (we are not sure how it would work in a big thunderstorm).  Although it would have been better to actually have the hospital physically connected or right next to the med school (like most major med schools), a water connection, if treated as serious transit rather than a tourist system, could have some promise.

Downtown – Riverwalk Place Money
There was news about Riverwalk Place:
A New York company that bills itself as specializing in "alternative asset management" has committed to provide equity funding for Feldman Equities Ltd. and Two Roads Development's planned Riverwalk Place skyscraper in downtown Tampa.

GPB Capital Holdings LLC, which has raised more than $1.5 billion in its history and focuses on "acquiring income-producing private companies," has been involved with the planned 53-story, mixed-use project for roughly a year.
So what does this mean?
In other words, it is a good step, but we will still have to wait and see.

Built Environment/Downtown/Channel District – All That Storage
A while back, there was a proposal (put forward by the City Council, no less) to allow single use storage in various areas around the City including downtown.  It seems to have died, at least for now.  Nevertheless, the self-storage proposal trend seems to still be with us.  First, staff has reviewed the proposal for 1307 North Jefferson Street. Per URBN Tampa Bay:
"•Air conditioned storage in CBD, per code section 27-184, table 184, requires Special Use 2 approval. Please submit a Special Use 2 application for processing, note: the standards under code section 27-132 would apply.
• This development does not meet the standards listed below:

27-132 Air conditioned storage.
The following specific standards shall be used in deciding an application for approval of this use within the Central Business District:
a. This use may only be established within a mixed use project that contains at least two (2) uses,
one (1) of which must be residential;
b. This use shall not exceed forty (40) percent of the project square footage;
f. This use shall not be located at the ground level, except that entrance and loading functions can occur at the ground level"
We think the rule is too weak but, even with the present rule, this project does not pass muster.  Building single use self-storage buildings is a sure way to stifle any attempt to have an active downtown or revitalize an area.  The fact is that there are industrial areas a few miles away from this location where self-storage would be fine.  Downtown is not the place for it.
The Channelside proposal is a little more interesting.  As you may remember it is along Meridian with a storage building on the north end, parking garage in the middle and apartments on the south. (See "Channel District – Better Than Others, But" ) There are two new elevations.
From Meridian
From 11th
We admit they clad the storage in a nicer skin, but, even with some street retail potentially in the project (it is not complete clear where), the garage is really bad and, while it is not completely clear, there seems to be more dead street frontage than activated frontage.
For a storage building it is not horrible, but it seems quite odd (and not the best usage of the land) to have such a building so near to Water Street project and with the area in line to be transformed (though we suppose they want all those Water Street residents to store stuff in their building).  The flour plant is a barrier now to full connection of downtown to the Channel District, but we don't know what will happen to it.  Most likely, as Water Street gets built and the land becomes more valuable, there will be increasing pressure to sell the flour plant land for development.  It cannot be assumed it will be there forever. Meridian has the potential eventually to be an urban boulevard helping to weave Water Street into the rest of the city and connecting the Channel District to it – or it could be a mostly dead street, which is mostly how it has been built on its southern end to date.
While, especially contingent on the retail amount and location, this project appears to be better than stand-alone storage, our opinion is still that there is room for storage in a city, but it is not in the middle of a redeveloping area.

Downtown/Channel District – Back to Sparkman
The folks at SPP gave an update of sorts regarding the renovation/rebuild of the Channelside complex.  They mostly elaborated on previous information, plus some renderings.
Strategic Property Partners on Thursday unveiled plans for the property, which has been renamed Sparkman Wharf. The name is a nod to Stephen Sparkman, Tampa Bay's first congressman, who secured the federal funding that created Port Tampa Bay in downtown Tampa.

The vision for Sparkman Wharf is a true mixed-use urban destination. The 180,000 square feet of office space will activate the property during the day. A dining garden, biergarten and recreational lawn overlooking the waterfront should attract downtown visitors and residents on evenings and weekends, driving demand for the tenants that will fill the 65,000 square feet of retail space. Concerts featuring local artists are a key part of the plans; Sparkman Wharf has partnered with Gasparilla Music Festival.
Of note, they are converting the movie theaters into office space:
The space where the movie theaters were will become loft-like offices, some with 40-foot ceilings overlooking the water.

The office space will be targeted to creative and innovation-oriented tenants. Tampa Bay Lightning owner and Water Street developer Jeff Vinik has said he sees the innovation hub he's starting in Tampa being in this space. (Vinik is creating the innovation hub himself, but has partnered with Cascade Investment, the capital fund created by Microsoft founder Bill Gates, on the larger Water Street Tampa project.)
And
This winter, Channelside's existing Mediterranean facade will be scraped off and replaced by something with a more industrial feel. The building will have a two-story office lobby at mid-block along Channelside Drive.
That should be interesting.  What will it look like?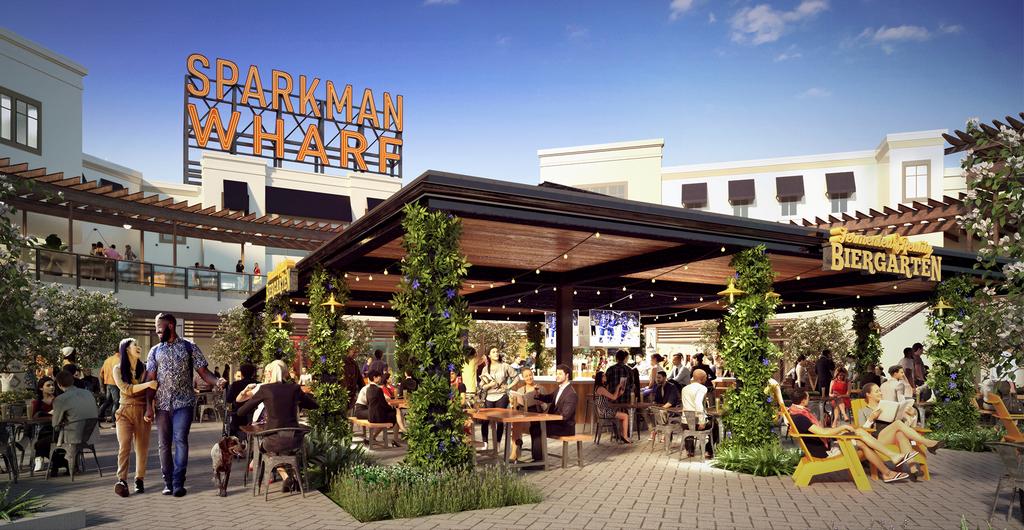 From the Business Journal – click on picture for article
We would not say that looks particularly industrial. There are some parts we like more than others. (And we are not sure the purpose of the very Mediterranean feature above the second floor walkway.) Regardless, what we don't like is offset by the access to the water (even though, from the renderings, you can see it will not always be accessible and the plexiglass wall seems to remain).
Much of the public areas should be done by October while the rest will be done by 2020.

Downtown/Channel District – Intriguing
Speaking of Meridian, there was an interesting article in the Times regarding a lawsuit by the City:
City Hall has dropped a lawsuit to use its power of eminent domain to secure a small patch of land needed for part of a road leading in to the $3 billion Water Street Tampa project, but that's probably not the end of the matter.

"We thought it was the in the best interest of the city of dismiss the case at this point," City Attorney Salvatore Territo said this week. He said ongoing negotiations had a bearing on the decision, but would not say what's being discussed, who the parties are or how long the discussions could last. While the city could refile the lawsuit, Territo said he's not sure if it would.
The suit was filed last year:
As reported in the article:
Now that the city has dropped its suit, what happens next is not clear. 
Indeed.
Airport traffic keeps growing:
The June passenger numbers are in and TPA had another strong month of growth! Last month, we served 1.74 million passengers – up about 6.9 percent over June 2017.
We could not get to it last week, but the Airport also gathered another accolade:
The honor from Airports Council International recognizes airports which have consistently delivered excellence in customer service, according to a news release. The ACI Airport Service Quality program is a worldwide service quality measurement and benchmarking service that questions passengers while at the airport.

The ACI director general's Roll of Excellence identified Tampa International as the only North American airport to receive the recognition. 
What exactly is it?
Airports Council International (ACI) World is delighted to announce the 2018 inductees into the ACI Director General's Roll of Excellence.

The honour recognizes those airports which, in the opinion of their passengers, have consistently delivered excellence in customer service. Passengers are surveyed by the ACI Airport Service Quality programme, the only worldwide service quality measurement and benchmarking service that questions passengers while at the airport.

The ACI Director General's Roll of Excellence identifies airports that have been ranked as one of the top five airports by size or region in five of the last ten years in the ASQ Survey.
That is an excellent statement about the airport, and fully deserved.  And you can feel fairly confident using the wifi:
Tampa International Airport was ranked this week as the 10th safest U.S. airport to go online without being hacked, but the ranking is not only about the place, but also about how savvy its travelers are.

The data security firm Coronet ranked the nation's 45 busiest airports. To identify the riskiest ones, the company collected data for five months from more than 250,000 of the millions of devices equipped with its SecureCloud software.

In that data, Coronet looked for Wi-Fi network risks as well as devices' use of updated and active anti-malware and firewalls, device password protections, trusted apps and operating systems, storage encryption and privileged user accounts and permissions. Thus, the rankings are based both on the presence of potential attackers lurking in Wi-Fi networks and on how vulnerable are the devices that passengers and others bring to the airport themselves.
Which is pretty good.  There is one thing though.  We noticed an article in the New York Times last week:
You can read the whole article here. Anyone who has been able to get into a lounge in a busy terminal knows how pleasant they can (though not always) be.  We get that the airport does not have full control over such things, but it has an American (One World) lounge and a Delta (SkyTeam) lounge.  It would be nice to have a lounge for the United/Star Alliance, too, even if the alliance airlines are a bit scattered among the airsides at the moment.
And in a little route news:
Tampa International Airport is actively speaking with the Bogota, Colombia airport on having a direct, nonstop connecting route this year.

Kenneth Strickland, TIA's director of research and air service development, was seen speaking with El Dorado International Bogota Airport officials last week while walking through the Tampa airport.
Coordination by airports is unusual, though, if it works, great (and innovative).  There is a market:
"We have 36,000 Colombian-American residents here in market, which drives the demand. In that market, we lose about 75 percent of that traffic of people from our airport who go to Orlando or South Florida for those flights."
Who might serve that route?
Colombia-based Avianca Airlines, which is the national airline and flag carrier of Colombia, is the first carrier the airports are considering that could run the route, Strickland said. He added that there may be other possible airlines such as Spirit Airlines and Southwest Airlines.

Officials at Avianca Airlines were not immediately available for comment. 
The airport has been pretty good about hitting its targets. We shall see.

Downtown – Reality Check, Cont
A few weeks ago we discussed traffic problems coming out of the Bank of America building downtown. (See "Downtown – Reality Check" ).  (The focus of our comments was a broader point about the lack of real plans to make downtown truly accessible as it grows significantly, especially with Water Street.)  The City has moved to address the narrow issue:
We are not sure if that will really fix the problem, but what really struck us is how many things can get done (and paid for) when officials want to act.
Now that the stadium concept, and price tag, has been revealed (read more about the plan here), though both may change, the speculation is about how to pay for it.
One of [Tampa Bay Rays 100]'s leaders, Jason Woody, founder of Lion's Eye Institute for Transplant and Research, hit the road this week on an outreach tour that included stops in Carrollwood, Temple Terrace and Sun City Center. He spoke to chambers of commerce and a Rotary Club about the ballpark design and cost. 

In an interview with Coffee Talk, Woody says politicians like Buckhorn are understandably gun-shy — it's early, and they don't want to get tied to a position that could come back to haunt them. "Right now there's a lot of grandstanding going on," he says. "I would rather have them say, 'Hey, let's investigate this and find out what it's going to cost. Let's all put our heads together, whether you're running for office or not, and see what we can come up with.'"

Woody says a creative combination of bed tax collections and revenue from potential new taxes on things like rental cars and food and beverage sales in the area around the ballpark could be a palatable alternative to an across-the-board levy. He also says Sternberg's contribution to the cost could double, or even go as high as $400 million, if the team receives the kind of deals for broadcasting and naming rights it seeks. 
Maybe.
The Business Journal had another installment of its nice series of construction pictures. (here) Here is one of the USF Med School looking west. Consider that Water Street plans to develop most of that land (and that Aurora  is quite unambitious in the context).
It is definitely worth a look.
Hillsborough County has created a cool feature that URBN Tampa Bay described very well:
If you haven't seen Hillsborough County's Historical Imagery Viewer with the 1938 overlay, you have to check it out! You can type in your address and see an overhead view of your neighborhood as it exists today, and as it existed in 1938.

There is also a view available of 1948 that does not overlay with today's view. https://www.arcgis.com/home/webmap/viewer.html…

And for lots of data all in one interactive map of the county, check out this link: https://maps.hillsboroughcounty.org/Ma…/MapHillsborough.html
Source: URBN Tampa Bay